Glittering Threads
|
home




My Dolls And Patterns

Contact infor for patterns and dolls:


Some of these Patterns will be discontinued soon! They are Marked with a D for referanceing.

Delilah DragonFly and Lily Lady Bug
from the Insect Collection
$11.50 PPD
Cute small doll with two different leg features, bent and straight. She stands 10" and has my own exclusive technique to make the wings. For the intermediate and up.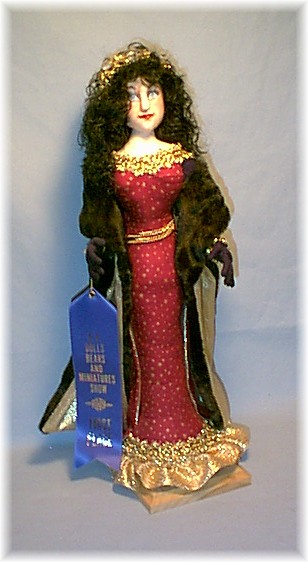 Jane Rouseau, the movie queen
$11.50 PPD
Straight from the runway of the 2002 Antelope Valley Doll and Bear show came this pattern for a sleek and sassy 15" stump doll. She remindied me of a certain Movie star who is also known for her curvacious and busty body. For the Intermediate and up.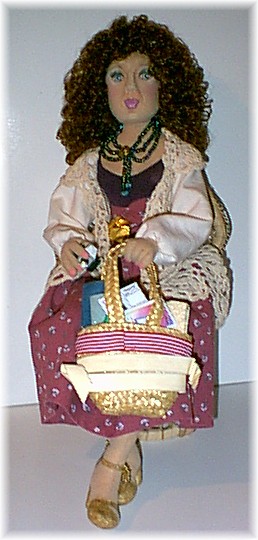 Maurine O'Dare, The Doll Teacher
Revised Edition $13.50 PPD
24" doll with jointed knees and elbows as well as the usual hips and shoulders. She sits well and has many possibilities. Bag instruction not included. For the Intermediate and up.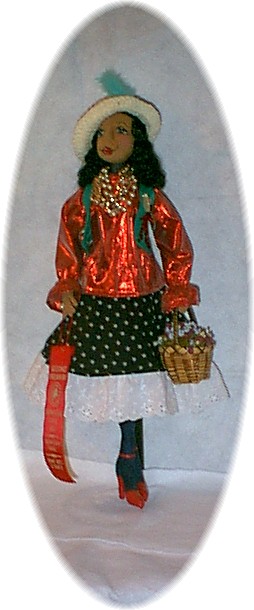 The Private Dancer
Revised Edition $13.50
Another 24" fashion doll with long sleek legs. Her hig heeled feet are painted for very sexy shoes. This doll works up well in cotton or doe suede fabrics, I made this model in both. For the Intermediate and up!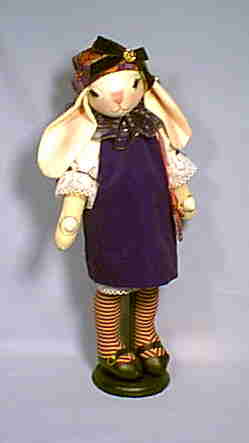 Babette La Bunny
$11.50 PPD
A delightful 18" Bunny, can be made of faux fur or doe suede. Instead of paws she has mitt hands and human like feet. Pattern includes dress, hat, undies, & body with complete written and illustrated instructions. Beginner and up.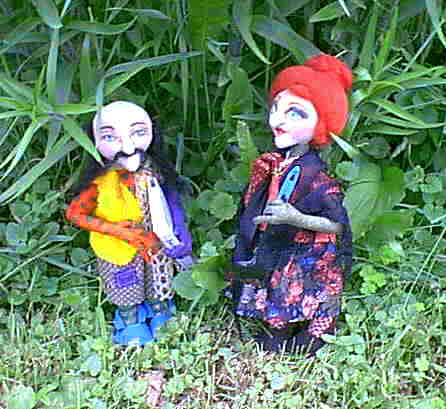 Sir Thomas and Minette Grimble
$11.50 PPD
A cute pair of dolls that stand 10" tall. A delight to make for the intermediate dollmaker. Pattern for shoes included.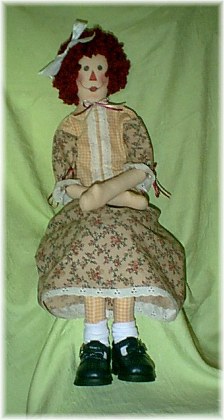 Ditsey Dotty, a 30" rag doll.
$11.50 ppd. D
This wonderful doll is one of those almost life size dollys that any child would love. She wears a child size 4 shoe. She is as much fun to make as she is to look at. Beginner and up.
The Doll Face Purse
$7.50 ppd. D
A cute little purse with a flashy face attached. A dollmakers must carry. Finished purse measures
7" x 12" Beginner and up.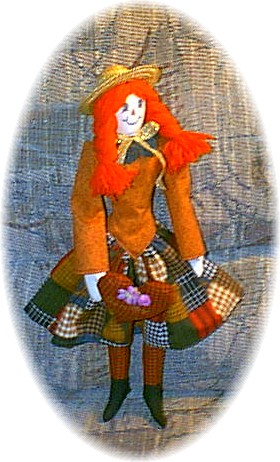 Sandspur Sarah
$7.50 ppd. D
Designed for the Sandspur Patch web site owned by Sherrie Norgren. A delightful 10" cloth rag doll with a figure. She is sweet and easy to make good fo a beginner dollmaker.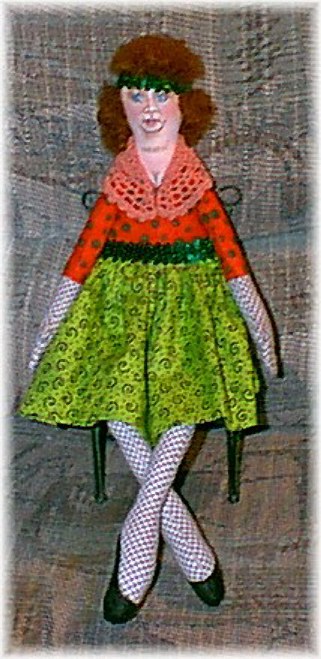 Hubbleston Hobbs
$7.50 ppd. D
A wild and wacky rag doll with pizazz. She an 18" rag doll of a different kind. Muslin body and cotton print fabrics mixed. Beginner and up.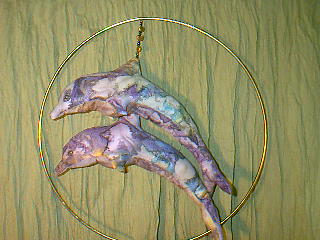 The Dolphin Mobile
$7.50 ppd. D
a 12" cloth dolphin. Instructions for call for two hanging in a 16" brass ring. Great pattern for a beginner dollmaker.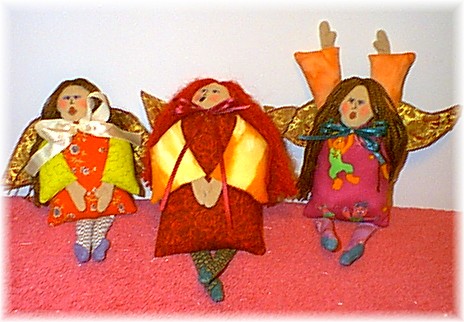 The Flirts
$7.50 ppd. D
Very cute and wacky little angels. They make great ornaments or package toppers. At 8" they are just a bit to big for pins, but with a little reducing they would work. Beginner and up.
Ginger Lynn, revised comming soon!
$13.50 ppd.
A nice large doll atanding at 30". Pattern includes the shown clothing, peddle pushers and a hanky blouse. Shoe not included. She wears a size 10 wig. Intermediate and up.
I accept Pay Pal with CC's at designdoc14@hotmail.com
also accept postal money orders and personal checks.
There will be a $25.00 charge on any returned check.
To place an order for patterns or dolls seen on this site please contact me for availability at: