Glitter Town Dolly's
|
home


Twinkle Toes Newsletter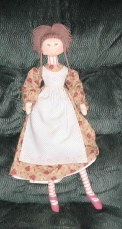 Publisher/Editor Sandra Corson-Walker Volume # 1 Issue # 1 06/21/04
Brought to you by the members of Glitter Town Dolly's find us on the web at;
Hello from all of us at Glitter Town!
We are doing a group project! There is no time limit and most certainly you do not have to participate in this, but I would like it very much if you would, if you have the time. We are going to use the pattern by DOKU "Cindy in the Scullery"
The purpose of this is for learning new skills to improve your dollmaking skills. this doll is a cloth over cloth technique and many more unique problems to work out. We will discuss and work out any problems that come up as they happen.
So here you have it, choose one project or both, it is completely up to you. I will have certificates of completion for the scullery doll project.
What is your Best News?
We want to know what your best news is for the doll world! Email the editor at:


Built by Sandra Corson-Walker